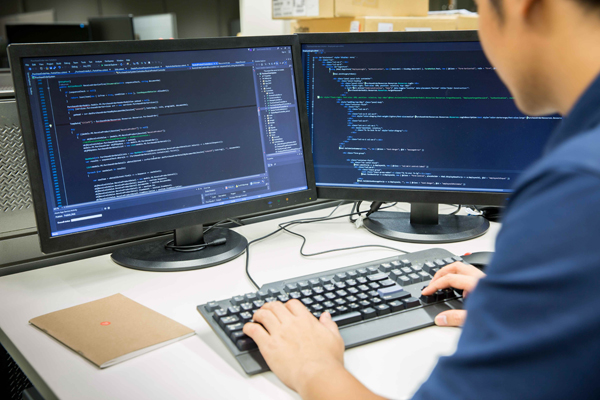 Proactive's experience in software development is wide and varied.
Proactive has been commissioned to develop:
Individual software components used in specialized devices for monitoring biometrics for a sports apparel company
Complete software driven systems that provide for automated user self-service server deployments in an international corporation
Desktop based tools and applications used by a large corporation's researchers to identify product formulations that meet required specifications
Web-based applications used by corporations to track desktop applications and corporate assets
Software that integrates third party vendor supplied applications together for use in corporate processes
Public-facing web-based applications used by charitable organizations
Our development specialists can help you in any or all phases of your development. We can work with you or provide services that:
Conceptualize your ideas and needs with the intent to be developed
Specify the requirements and functionality required to implement your ideas
Produce an architecture and design that will meet the requirements
Develop the system or application in your or Proactive's development environment
Test the system or application using your or Proactive's test environments
Deploy your system across your enterprise using your deployment mechanisms or with a deployment mechanism provided as part of the engagement.
Accelerated Design
Our teams have decades of experience working with customers, from small companies to large enterprises, to conceptualize and design processes, procedures and systems. Our design services can be delivered as consulting engagements or as part of a project.
Our design approach is tailored to each engagement's purpose. We work with you to efficiently produce the architecture and design that meets the complete scope of your requirements.
We can help you turn amorphic work into well defined processes, procedures, data and tools required to maximize efficiency, even across corporate management boundaries at all levels.
Our design experiences range from corporate IT environments to industrial operations environments to research and development environments.
Our designs have yielded systems within corporations that have been in place, in use and operational for years and have even been offered for sale to other corporations by the owners.
UX & Interface Design
Proactive has broad experience designing interfaces for both web-based and desktop-based applications in Windows based environments. According to the requirements of the engagement, we will use the most effective interface implementation that meets your specifications.
We have extensive expertise in using WPF and WinForms for desktop applications and ASP.NET and MVC based interfaces.
Customer Experience
Coordinating the release of an application or IT environment change requires ensuring that end users are properly trained and that the change works as expected in all user-oriented workflows.
Proactive has extensive experience with designing and implementing solution acceptance testing and end-user training. We work with you to identify focus groups and efficient test processes tailored to each group. As part of our engagements, we can provide coordination of end-user training and delivery of end-user training where required.
Contact Us today to know about our Software Development Services!